The Indian Institutes of Technology (IITs) are India's most famous institutes, providing internationally acknowledged technical and technological education. IITs have built a world-class educational foundation over the years that is constantly sustained by outstanding teaching and internationally acknowledged research, as well as excellent infrastructure and the best available minds. IIT graduates have important roles in India and around the world. Students who have graduated from the IITs are renowned to have achieved professional distinction in their lives. This article shall discuss how to prepare for JEE mains, which will help you get into this prestigious institutes.
What Is IIT JEE?
The IIT JEE is a national-level engineering entrance exam that is divided into two stages: JEE Main and JEE Advanced. JEE Main is a screening exam that determines who will be qualified to take JEE Advanced, which is the ultimate exam used to choose applicants for admission to prominent IITs. The IITs have a Joint Entrance Examination (JEE) every year to choose applicants for NITs and IITs. These famous institutes provide four-year B.Tech, B.Pharm, five-year B.Arch., integrated M.Sc., and M.Tech programs.
Eligibility To Appear In IIT JEE
Candidates from the general category must have received at least 75% on their Std. XII board test to appear in JEE Mains. Mathematics and Physics are required subjects in XII, along with Chemistry, Biology, and Biotechnology. There is no upper age limit for taking JEE Main. From the year he takes Std. XII, the candidate is eligible to take JEE Main for three years in a row.
Candidates who pass JEE Main while meeting all qualifying criteria are eligible to take JEE Advanced. JEE Advanced is used for admission to several undergraduate programmes at IITs. Candidate must be one among the top 2,50,000 candidates to pass JEE Main – Paper 1, including the reserved category. Candidates from the general category must have received at least 75% on their Std. XII board test. Candidate is eligible to take JEE Advanced in two consecutive years beginning with the year he takes Std. XII.
Exam Pattern Of IIT JEE
JEE Main is an entry-level exam with a low difficulty level. It is made up of two papers. The Paper 1 exam is used to get admission to Undergraduate Engineering Programs at NITs, IIITs, CFTIs, and other notable universities. It also serves as an eligibility test for JEE Advanced, which is held for admission to IITs. Paper 2 is required for entrance to the B.Arch. and B. Planning programs.
JEE Advanced is used for admission to several undergraduate programmes at IITs. It is a single-stage objective type examination consisting of two exams of three hours each to measure students' comprehension and analytical abilities. Papers 1 and 2 will each have three independent parts on Physics, Chemistry, and Mathematics. All questions are of the Objective-Type, and they are designed to assess the candidates' aptitude, comprehension, and analytical ability.
There will be both MCQs and numerical value-based questions. The pattern of the paper, as well as the number of questions asked, are not fixed and vary from year to year. The marking scheme is not permanent and varies from year to year. For some questions, wrong answers may result in negative marks.
Many students choose to take a year off to prepare for the JEE exam. It could be due to a lack of interest in the targeted engineering field, unhappiness with the preparation, or a poor plan for passing the exam. Whatever the reason for dropping, the goal remains the same: admission to the best engineering schools.
How To Prepare For IIT JEE?
When studying for IIT JEE, keep in mind that your Class XII board exam results will be crucial. As a result, you must pay close attention to your board exams. Here are some additional suggestions on how to prepare for JEE mains to keep in mind:
Begin your IIT JEE preparation with the texts you have from Class XII. You can also consult NCERT books, which are written by a team of topic specialists. IIT JEE preparation is a lifelong commitment that must begin early.
Take care not to use too many reference books. Create a list of highly recommended IIT JEE preparation books for future reference. Use the ones that cover the most of the curriculum and fit your learning style.
Index themes in the order of importance or weightage in the JEE Main and Class XII board exams. This will highly help you to score more.
Grill yourself until all of your fundamentals are crystal obvious. JEE Main especially assesses how effectively students understand the topics and apply them to a set of questions.
Revise and practice utilising previous year IIT JEE papers, check solutions from solved papers, get assistance as needed, and revise and practise again.
Last-minute IIT study suggestions frequently advise students to attempt the IIT JEE papers from the previous three years.
JEE Main places a premium on time management. So, while attempting to solve model JEE exam papers, keep an eye on your watch as well. If answering a question is taking too long, move on.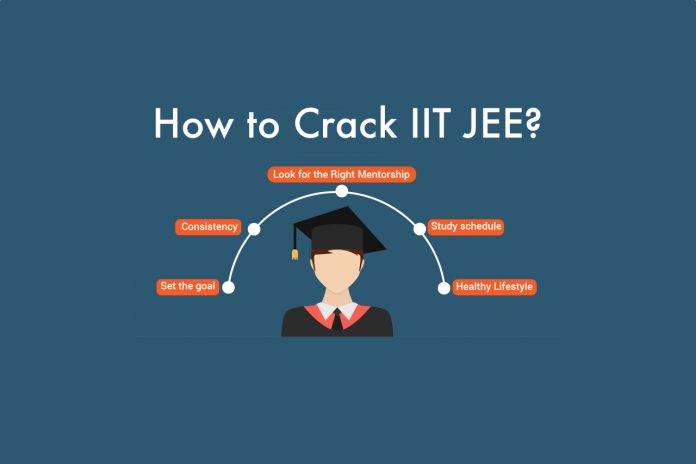 Study Tips To Prepare For IIT JEE
The IIT JEE is one of the most difficult entrance exams in the world. In order to study for the JEE exam at home, JEE candidates must follow a correct timetable, preparation suggestions, and strategy. Here are some tips you can adopt to study for IIT JEE mains:
Purchase the necessary books and study materials for the JEE: Gather all of the necessary books and materials for JEE preparation. Try to stick to a JEE study material so that you can concentrate solely on JEE syllabus themes. Don't put the NCERTs in jeopardy. NCERT textbooks with solved examples and summaries are quite useful for JEE.
Make a study regimen and stick to it every day: Maintain a study habit and a JEE timeline, giving equal weight to Math, Physics, and Chemistry. In JEE preparation, consistency is crucial. Instead of studying all night one day and resting the next, it is preferable to study for the same number of hours on both days.
Begin to appreciate physics, chemistry, and mathematics: Make studying pleasant and exciting by using clever ways, real-life analogies, and the assistance of convincing professors. Start loving your studies, and you'll be on your way to JEE success.
Remove any distractions from your home: Staying at home all the time can lead to frustration and boredom, so make sure you don't get distracted from your studies and preparation. Avoid spending too much time on social media platforms such as Facebook, WhatsApp, Twitter, and Instagram. Remove all such wasteful activities from your life in order to gain admission to an IIT or NIT.
Manage your time wisely between schoolwork and other responsibilities: Managing time during JEE preparation is critical since you must strike a balance between study and other obligations. Long periods of continuous study might cause weariness, and taking too many breaks may result in you not being able to finish your job on time.
Concentrate on little goals to attain huge results: At first glance, the JEE syllabus appears to be massive. Separate it into modules. Take one topic at a time and concentrate on completing the goals associated with that topic; after that is completed, go on to the next topic on the syllabus. When an exam is approaching, go through the theory and solve problems from all of the topics.
Have a thorough theoretical understanding of basic concepts: The benefit of reading theory on all areas is that anytime you see a question, you will have a good understanding of 'What topic, the question revolves around' and what are the likely concepts that you can utilise to solve that question.
Consistently work on problems daily: JEE necessitates a significant amount of practise. Make it a habit to solve problems. Spend some time each day for problem-solving. If you are unable to solve a problem, read the theory several times until you understand the subject. If necessary, seek assistance from your teachers.
Don't be discouraged if you can't answer questions: You should never be depressed if you are unable to answer inquiries on a particular topic or subject. Put up your best efforts and hard work to comprehend the theory and then solve the challenges. If you stick to this slogan, your exam performance and grades will immediately improve.
Never procrastinate; always finish your work on time: JEE preparation entails putting in more effort in your studies, understanding concepts, and solving problems over a longer period of time. Make certain that you meet your daily or weekly goals. Finish your schoolwork and assignments on time and with seriousness.
Be eager to learn and seek advice from teachers: Resolve any of your questions and concerns, no matter how ridiculous they may be. If you don't comprehend something, keep asking your teacher the same question. You can get answers to all of your JEE questions online.
Make small notes and revise every day: Continue to revise what you're learning every day, week, and month. It takes a long time to learn anything for the first time, but it takes relatively little time to review it every now and then. Make brief notes on each chapter for easy revision.
Conduct regular tests to evaluate your performance: To assess your learning and performance, provide periodical assessments based on the JEE exam format. Begin with timed chapter-by-chapter tests, then go on to part tests of multiple chapters, and then full paper tests once the curriculum has been completed. As JEE Main and JEE Advanced will be computer-based exams, take online practise examinations.
Time management and question-answering pattern: Time management when doing papers is critical for passing the JEE exam. Always designate a particular amount of time to each section of your tests and aim to complete them within that time frame. Start with the subject in which you are most comfortable. Learn the proper way to practise JEE problems. Strive to improve your speed and accuracy.
Maintain your composure and optimism in order to pass the exam: The ability to remain calm and composed is what distinguishes those who perform well in the JEE exam from those who do not. During your JEE preparation, you will experience lows and negative sentiments about your performance. During these trying times, you must remain focused and motivated in order to pass the JEE exam.
Rest well and eat nutritious food: Get enough sleep and consume your meals on schedule. It will allow you to focus more on your academics, revision, and exam preparation. A good night's sleep relaxes your mind and helps your memory. You'll be able to focus properly and feel energized all of the time.
Subject Wise Preparation For IIT JEE
A question in the JEE exam might come from any topic or chapter. Complete all of the subjects since an easy question may arise from a topic that you deem uninteresting or difficult to read. When it comes to topic preparation, you should devote adequate time and attention to each and every topics of Physics, Chemistry, and Mathematics.
To pass the IIT JEE mains, you must have a deep comprehension of topics as well as the ability to solve numerical problems that need good aptitude and require extensive calculations.
You should answer short-answer questions, subjective-type problems, and assertion-based inquiries. This will help you gain a thorough understanding of the subject, as well as multiple-choice questions to improve your speed and accuracy.
Mathematics
Math is a topic that demands both theoretical and problem-solving abilities. You must be proficient in both. You should first thoroughly comprehend the theory before applying it to various problems. The best way to master arithmetic and improve your math fluency is to practise.
Mathematical practise is the only way to succeed. The more you study and practise Math, the more your brain develops and your problem-solving ability grows. Pay close attention to the computations and time management. The concepts and formulas should be readily available to you. Know every feasible shortcut and formula to make problem-solving faster and easier.
Master the interrelationships between distinct areas in mathematics. Coordinate Geometry and Vectors can assist in the solution of problems involving complex numbers. Probability problems can be solved using permutations and combinations. Trigonometry and calculus, once again, aid in the solution of a wide range of difficulties.
Physics
Physics is another discipline that necessitates a thorough comprehension of the concept as well as its application in a variety of settings (real-world) and mathematical problems. Develop a thorough comprehension of all essential ideas and avoid rote learning.
To learn the fundamentals of physics, start with the NCERT textbook and then move on to books by HC Verma and DC Pandey. Alternatively, you can study Physics by following a coaching material. Don't start fixing problems until you've mastered the fundamentals.
Revise all of the formulas several times with the case and conditions. When completing Physics problems, be mindful of the signs (-ve and +ve) and units. Avoid calculating errors at all costs. Regularly practise questions with time constraints. This will improve your problem-solving speed and analysing power, as well as make you fond of concepts and, at times, formulas.
The two most significant areas in Physics are mechanics and electrodynamics. You should also spend time learning about heat, thermodynamics, optics, and modern physics.
Chemistry
Chemistry typically entails numerous reactions, processes, and equations. Furthermore, when studying chemistry for your JEE main preparation, you should become acquainted with and thoroughly understand all the terms, symbols, and diagrams.
Don't begin memorising everything in Chemistry. Concentrate on grasping the core concepts first; then it will be easy to memorise other information. After finishing a chapter, write down all formulas and equations in your notes. Solve NCERT, tutoring, and previous year's questions. While practising questions, ensure that you grasp each stage of the problem and why it is required.
In Chemistry, general principles of organic chemistry are simple to grasp. You can quite easily score in Physical Chemistry numericals. Inorganic Chemistry has a large number of information and data that must be updated on a regular basis.
Is It Necessary To Join Coaching Classes To Crack IIT JEE?
Even if you attend a lot of coaching programmes, you will have to do a lot of self-study. The MOST essential aspect of JEE is self-study. However, it is not the sole factor. The quality of the question papers, as well as the internal rivalry generated by the coaching classes, should not be overlooked. Competitions encourage pupils to push themselves to the maximum in order to outperform their peers.
Many students believe that coaching is unnecessary when studying for JEE Main and JEE Advanced. Coaching, on the other hand, benefits students in a variety of ways.
It helps you comprehend the exam's true format.
It gives you a glimpse of the level of competition for the IIT JEE exam.
It also gives you a comprehensive understanding of the syllabus.
It is difficult for all students to gain access to good IIT JEE coaching. Many pupils live in outlying places where they cannot find a suitable coaching institute. Furthermore, IIT JEE Preparation can be pretty costly.
For those who want to study how to prepare for JEE mains at home, online IIT preparation is great. There are numerous internet websites that provide information on how to crack IIT JEE, free IIT JEE study material, and IIT preparation suggestions. Some companies also have professional tutors with years of online teaching expertise as well as direct knowledge of passing the IIT JEE and studying at IIT.
How Much Time Is Required To Prepare For IIT JEE?
Because the material for the JEE Main exam is extensive, applicants must devote at least seven months to exam preparation. This is the minimum time period to have a thorough preparation of the entirety of the JEE exam syllabus. Of course, it also depends on your timing schedule, and whether you choose to go to a coaching class or not.
If you have a decent plan and a good status, you can even prepare for JEE mains in 2 months or 1 month. The first step is to thoroughly review your syllabus. If you are unable to comprehend the JEE Syllabus, you must abandon your ambition of cracking the JEE Mains in one month. If you have a thorough understanding of the syllabus, then you can categorize the topics into easy and tough, or those you know well and those you do not.
This is a crucial aspect of your preparation as you need to set your priorities as to which topics you need practice and understanding of. Accordingly, you can utilize your time to learn the topics that are hard and need more effort to understand. Thereafter, buy useful recommended books for you to refer and study these topics.
Another thing you need to do in parallel to studying is to revise each topic you learnt everyday. This is also important so that you dont forget the concepts you already studied while engaging in another topic.
You can also try to solve prior year's question papers while revising. This is a crucial portion that every student should complete. You should rehearse the year's question papers one to three or four years before the year in which you will take the exam. Examine the JEE Mains level questions and identify your weak points.
Test series and mock tests are additional options. These examinations will undoubtedly provide you with an opportunity to understand how to take tests within the time constraints. To determine your potential or strength, consider how many questions you can successfully attempt.
Endnote
It is not uncommon for students to take a year off to focus on JEE preparation. With appropriate decision-making conviction and the right approach, your efforts will bear fruit. Simply follow a well-planned study programme, cover all areas, and practise well. With enough preparation, practise, and a bit of self-confidence, you can crack the IIT JEE exams. Best wishes!