How to Study Chemistry for NEET?
Chemistry is a branch of science dealing with the structure of elements and compounds, properties, and composition. There are three different branches of Chemistry. Those are:-
Organic Chemistry
Inorganic Chemistry
Physical Chemistry
Organic Chemistry
Organic Chemistry deals with structure, properties, and composition. Most organic compounds are carbon, hydrogen, nitrogen, oxygen, halogens, phosphorus, silicon, and sulfur.
Inorganic Chemistry
Inorganic Chemistry deals with metals, minerals, and organometallic compounds with their properties and behavior of the compounds.
Physical Chemistry
Physical Chemistry deals with the application of techniques and theory for the study of chemical systems.
Different techniques to study each branch differently
Physical Chemistry
In this branch of chemistry, it is basically for solving. And to get a master's in this branch, you must practice it daily. The more the number of practice, the more the chance of getting better at it. Down we provide with few preparation tips that can ponder your way to victory.
Ignoring NCERT books is a painful bliss
Remembering formulas is a must
Understanding and using those formulas
Practice questions daily
Revision
Organic Chemistry
This branch of chemistry is known for special conditions. Students preparing for NEET or any other competitive exam have to face the issue of special conditions, and those cannot be ignored. For this branch, a few preparation tips are down below.
General Organic Chemistry and Isomerism and its effects will help to score well in the NEET chemistry exam paper
For special conditions, tutors are needed for hydrocarbons, Alcohol, Aldehyde, Amines, and Alkyl Halide.
Refer to reference books and note the important conditions.
Revise daily
Inorganic Chemistry 
In this branch, students often end up ignoring. The number of questions in the NEET chemistry exam paper is increasing daily; hence, scoring maximum marks in chemistry sections becomes difficult. Although this branch of chemistry is easy, using the NCERT book is more than enough for the NEET chemistry exam paper. Down are the preparation tips.
Use of NCERT book is a must
Highlighting the key points
Solving inorganic chemistry chapter questions
Revision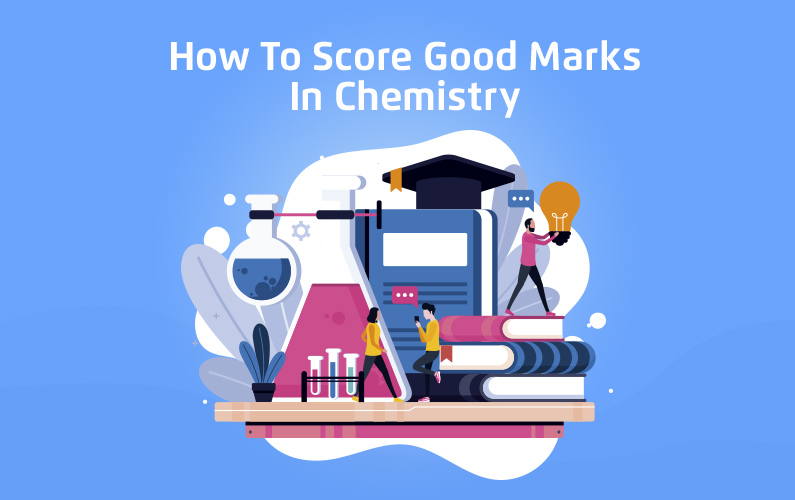 Strategies to study and score good marks in Chemistry
Numerous strategies are provided to numerous students. But not all students are the same, and the same strategy will not ponder the way. So, we have provided the strategy that will work with any subject and candidate pursuing chemistry. Those points are:-
Class reversed technique
Notes are best
Daily practice to shine bright
Flashcards to their perfection
Group study can improve study session
Baby tests to ponder your way to success
Chemistry syllabus for NEET
What are Inorganic chemistry chapters? How many questions come from organic chemistry in NEET? In this, we will answer all the doubts regarding the syllabus and the number of questions to be asked in the NEET chemistry paper.
Syllabus
Some basic concepts of chemistry
Structure of atom
Classification of elements and periodicity in properties
Chemical bonding and molecular structure
State of the matter: gases and liquids
Thermodynamics
Ionic bond and covalent bond
Redox reactions
Hydrogen
Laws of chemical combination
S-block elements (Alkali and Alkaline earth metals)
Some p-block elements
Equilibrium
Equilibrium in physical and chemical process
Hydrocarbons
Organic chemistry – Some basic principles and techniques
Electronegativity
Atomic number
Isotopes and isobars
Solid-state
Solutions
Electrochemistry
Chemical kinetics
Surface chemistry
General principles and processes of isolation of elements
P-blocks elements
D and f block elements
Coordination compounds
Haloalkanes and haloarenes
Alcohols and physical and chemical properties of a primary alcohol, phenols, and ethers
Aldehydes, ketones, and carboxylic acids
Organic compounds containing: nitrogen, amines, cyanides, and isocyanides
Biomolecules
Polymers
Chemistry in everyday life
Band theory of metals
Elevation of boiling point
Cleansing agents: soaps and detergents
These are the chapters for the neet chemistry exam paper. The weightage of each branch of chemistry.
Physical chemistry – 32%
Organic chemistry – 34%
Inorganic chemistry – 34%
How to create an effective study timetable?
Creating an effective timetable is very much stressful. But having a timetable will help you to know your work efficiency concerning the time. The timetable helps to provide proper time for each and everything in life. The person is creating the timetable as other people do not know your priorities; hence, the timetable made by another person will be of no use to you. But, we have provided some key points; by remembering them, you can create enough time for each thing in life.
Create different sections of the time concerning the day
Schedule permanent actions
Then with the help of a to-do list, create high-priority actions in the list.
Keep almost three hours for each subject and each one hour for branches. For example, chemistry consists of three branches and hence three hours. Physics consists of two branches and hence two hours and vice versa.
Always create backup time to complete the tasks that are undone.
Always keep and maintain a to-do list that will help track your progress daily.
Which are the best books to study for the chemistry NEET exam papers?
Numerous books can help you to score well in chemistry NEET exam papers. We have provided a list that can help you out.
NCERT books (11 and 12th)
Physical chemistry, Organic Chemistry, and Inorganic Chemistry (O.P. Tandon)
Physical Chemistry (P. Bahadur)
Organic Chemistry (Morrison and Boyd)
Organic chemistry (Arihant)
Concise inorganic chemistry (J.D. Lee)
These few books can ponder your way to score good marks in the chemistry of neet exam papers.
NEET preparation tips for beginners
There are some of the tips that can help you to score well in chemistry on neet exam papers. These tips are best for beginners who want to conquer chemistry in total domination.
Know the syllabus
Best books to refer
Practical timetable
Notes are must
Revision daily
Regular breaks during the study session
Proper sleep to keep things remember
A healthy environment for best outcomes
Tricks to solve NEET chemistry questions
There are a few tricks that can help to solve the NEET chemistry questions. With the help of those tricks, you can score well in the exams. Those tricks are:-
Study and solve NCERT questions first.
Make notes and formulas wherever required.
Reference book for more possible outcomes
Practical usage of formulas
Revision in the step-by-step format
What are the advantages of coaching classes?
The advantages of coaching classes for the NEET aspirants are:-
Best-in-class resources
Tutors at its finest
Mocks test to know your position
How to take an online mock test?
NEET online mock tests help to know the true position in the NEET exam papers. It helps to learn how to manage time, know the shortcuts, etc. Various advantages can pave your way to victory by scoring well in chemistry for the NEET exam paper.
There is the various best website that can help you with the mock test paper. Those are:-
Grade up
Exambazzar
Youth4work
Embibe
Etoos
These websites need to be signed in and then paid the fee, and then they will redirect to the exam page and complete the test. After completion, submit the paper and know your score the very next time.
Conclusion
We have a proper the best guide for the NEET chemistry exam paper. Questions like how to study organic chemistry for neet, how many questions come from organic chemistry in neet, how to prepare chemistry for neet, etc., all have been answered to their finest. Chemistry can be difficult to remember, but if anyone can score well in that subject, it must be you. With this positive approach, you can easily achieve any goal and see yourself at the top.
FAQs
Which testing agency governs NEET?
NTA is the testing agency that governs NEET and JEE for fair and smooth conduction of exams
What is the NEET 2022 exam date?
July 17 is the exam date for NEET 2022.