After passing the nerve-racking IIT JEE Advanced exam, the most important step is picking which field to pursue at IITs. This critical step of selecting a branch influences a student's entire career path, adding to the pressure.
It is normal for IITians to regret their major decision once they begin college. If you passed the JEE and were admitted to an IIT, you'll be faced with the decision of which branch to pursue. When making your decision, consider all of the advantages and cons of the branch. This includes potential work opportunities and, most crucially, relevance to your hobbies.
IIT Branches
Many students make the mistake of not properly educating themselves on the various branches accessible at IITs. As a result, they make rash decisions, often depending on advice from parents and relatives. Such decisions can be disastrous, resulting in a loss of interest in the hastily picked branch. It is possible that a specific branch is tailor-made for your interests and you are unaware of it.
JEE students who go through the counselling procedure after passing JEE Advanced must make very careful decisions about which IIT and branch to pursue. A student will be presented with a list from which to choose the Indian Institute of Technology and branch of study in order to begin his or her adventure into a whole new world. Your selected IIT branches are determined by a combination of factors such as proximity, the rank of the specific IIT, your rank, area of interest, alumnae record, fee structure, placement record, and so on.
Different Branches In IIT
Aerospace Engineering: Aerospace engineering is the study of aircraft and spacecraft. It is divided into two subfields: aeronautical engineering and astronautical engineering. At the moment, four IITs offer a degree in this field. 
Bio-Engineering: As the name implies, bio-engineering is concerned with the interaction of biology and engineering. It tries to develop economically viable products by combining biological principles with engineering technologies.
Chemical Engineering: Chemical engineering is concerned with transforming vast quantities of chemicals and other raw materials into useable forms. Many students wrongly believe that this field primarily incorporates chemistry, which is not the case. It also includes physics and maths ideas. Chemical engineers typically learn a wide range of skills and are in great demand.
Civil Engineering: This branch is concerned with the design and construction of structures such as buildings, roads, houses, dams, airports, and so on. Civil engineering is also a vital profession. Civil engineers are critical to the growth of any nation and are hence in high demand. Civil engineers also figure out how to allocate and manage scarce national resources effectively.
Computer Science Engineering: This is the most popular and sought-after branch among IITians. It gives a good overview of both computing systems and hardware. This field of study necessitates a significant degree of arithmetic and computational thinking. With the majority of the world becoming increasingly technologically oriented, CSE is at the forefront of this shift. 
Engineering Physics: Engineering physics is the study of the interrelationships between physics, mathematics, and engineering. Its goal is to develop and use innovative engineering methodologies. This branch is available at various IITs and includes a variety of disciplines ranging from physics to maths. 
Electrical Engineering: Electrical engineering is a popular choice among students, coming in second only to CSE. If they do not get into CSE at their favorite IIT, many students choose Electrical. It is concerned with the investigation and application of electricity, electronics, and electromagnetism. 
Material Science Engineering: Material Science Engineering is an interdisciplinary branch that necessitates the design and discovery of new materials, particularly solids. It also includes various study topics such as nanotechnology, biochemicals, and so on. These materials have a wide range of applications, including aviation. 
Mechanical Engineering: Mechanical engineering seeks to create mechanical systems by the use of physics, engineering, and mathematics. It also entails utilizing CAD to create 3-D models of mechanical systems. It is at the cutting edge of many future breakthroughs in industries such as transportation, healthcare, robots, and so on.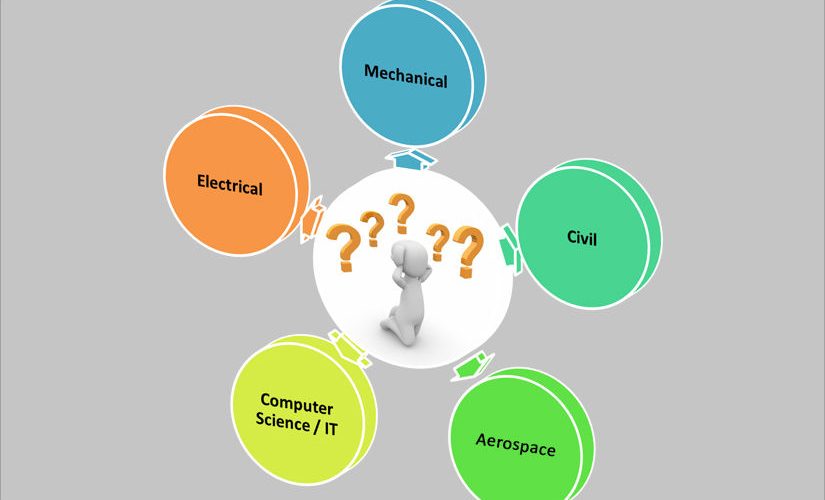 How To Choose A Branch In IIT
Once you have passed the exam, you will be asked to rank your preferences in terms of branches and IITs. The branches will then be assigned to you based on your rating and order of preference.
Choosing a branch can be a time-consuming and tedious procedure, but it is a necessary step in your career. Before deciding on a career path, you should determine whether engineering is truly your passion. If you're not interested in solving real issues in everyday life then you're sure to become bored and possibly dissatisfied at some point. So here's how you choose a branch in IIT:
Take a glance at the prior year's opening and closing rank data as soon as your rank is available. Typically, this is provided by the authority giving the counselling. Prepare a list of all the branches that you have a possibility of getting using that data.
Students frequently make the error of failing to research the branch of study in which they are interested before enrolling. This frequently leads to a loss of interest in their college education. So extensively research the course information. Learn about the course information by visiting the website of the specific IIT. Examine the topics of the courses as well.
Another issue that many students are perplexed about is the distinction between branch and IIT. The common quandary is whether to pursue a good branch at a new IIT or a mediocre branch at an old IIT. One piece of basic advise is to consider why you're taking up the branch in particular. Ask to students who study there about the quality of the teachers and facilities.
The courses given in the first year of most IITs are common to all branches. This is done with the understanding that many students choose their branches without first experiencing them. After the first year, you will be offered the option, subject to certain requirements, to shift to the branch of your choosing. This option is only available if you have a strong academic record and is not always a safe bet. As a result, rather than hoping for a branch change, it is critical to carefully consider which branch you want to pursue.
Do not make the mistake of believing that you are interested in a particular field merely based on employment prospects and placement statistics. If you aren't interested in a particular branch, don't take it only for the purpose of a larger pay. Keep in mind that this is what you will be doing for many years and decades–a long time to be unhappy with your decision.
Endnote
Investigate as much as you can about your branch's course program and its contents. Making an informed selection about which branch to pursue is critical for your career. As a result, you should consider the many characteristics we've discussed and select the branch that best matches with your preferences.
Don't rely solely on the advice and guidance of others. Try to learn everything you can about the course. This will assist you in analysing your interest factor. If you can't figure out what you want to do, think about your former likes and hobbies.